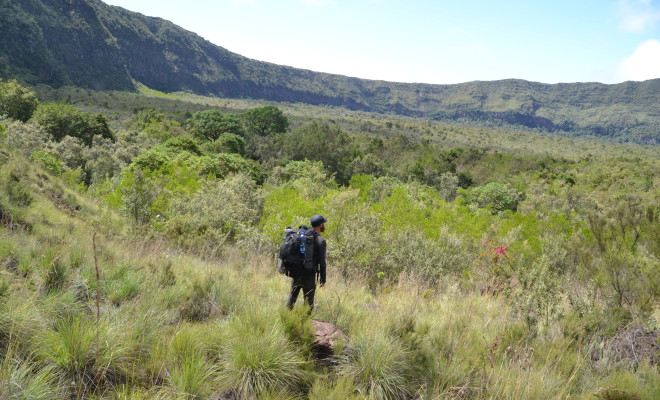 Uncategorized
Wild camping in Mt Longonot volcanic crater
By
|
While visiting Lake Naivasha recently, I woke up one morning and decided to go camping at Mt Longonot. However, as with any Africa overland travel this was to be an entirely unexpected adventure, for I had taken my tent with expectations of hiking to the crater rim but had no idea I would end up wild camping in Mt Longonot crater itself.
I knew it was possible to wild camp around it, I knew there was an extinct volcano on which you could climb the rim, I knew at the bottom of the crater there was a dark forest with buffalo, leopard and more. I just had no idea a guide would be willing to take someone inside to wild camp in the forest overnight.
He mentioned those words so many times, I began to have second thoughts – leopard, python and buffalo, but the opportunity seemed too ridiculous to turn down.
Hiking Mt Longonot to the crater rim
Halfway into hiking Mt Longonot, I asked Gabriel to take a photograph of me posing unashamedly with the view. It was a privilege to be back overlanding Africa, standing over these plains where Masaai tribes safeguard their lands and many great lakes offer refuge to the hippo.
Waiting for darkness and wild camping in Longonot
On edge having scrambled our way down and with darkness not too far away, Gabriel began hacking through the growth. He pointed to a bees nest in the rocks and said we needed to move past it quickly but carefully. It was the first moment I realized how every little thing mattered in the crater. Two years ago, a group of hikers disturbed a bees nest near the rim and two of them fell to their death – I had read about it, Gabriel had carried the bodies out.